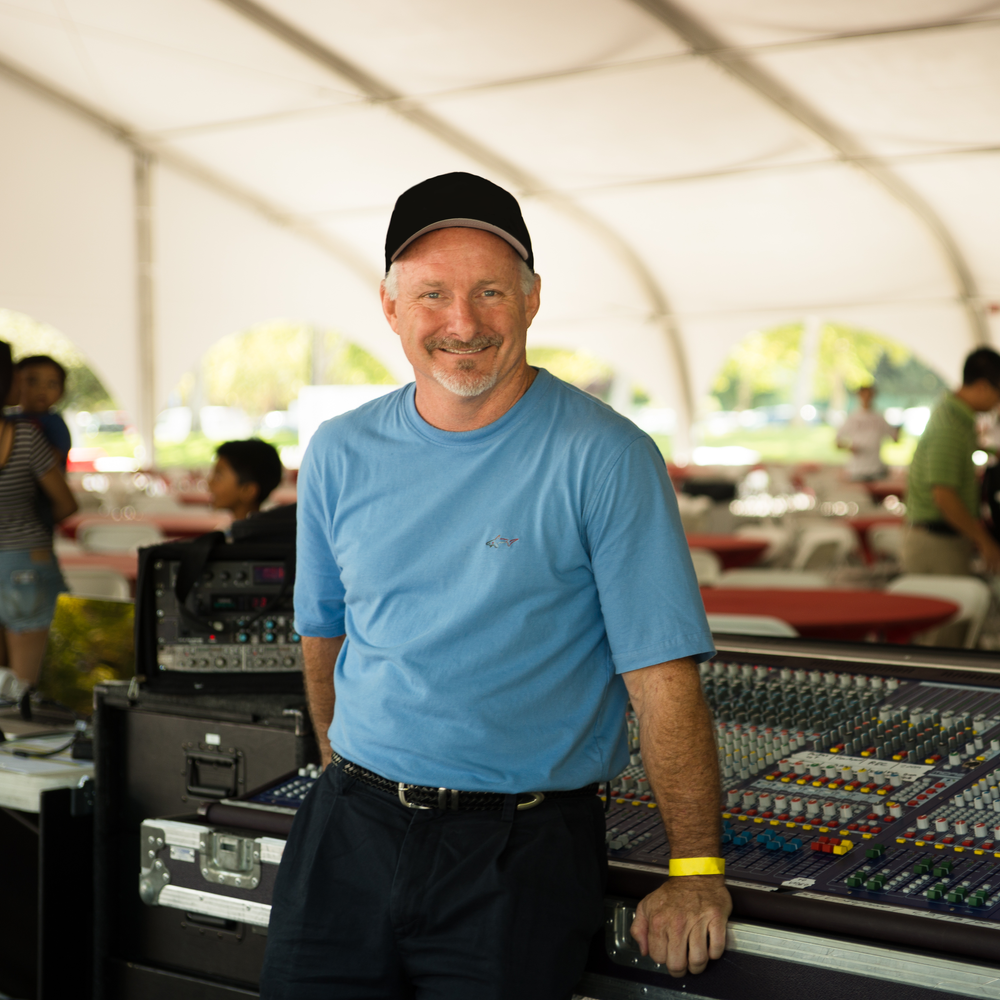 MIKE O'BRIEN
Mike O'Brien is a freelance professional San Diego Audio Engineer with more than 35 years of experience providing highly technical expertise in live audio, broadcast, music, sporting, and corporate events.
Some of Mike's corporate clients include:
Advanced Systems Group/Google
Verizon Media Group/Yahoo!
Cisco Systems
Maxim Integrated
Intel
Creative Technology
Creative Video Systems
Riverview Systems Group
BIO
After studying Audio Technology at the University of California Santa Cruz, Mike O'Brien's early career focused exclusively on live music mixing. He mixed for a variety of bands performing for small and mid-sized events up through large-scale, multi-thousand-guest outdoor concerts at state and county fairs throughout California. While living and working primarily in the Silicon Valley, Mike's work would eventually move significantly towards corporate audio and ultimately corporate broadcast and webcast events.
In 1995 he found himself, somewhat unintentionally, moving into major Sports Audio, eventually serving as the Technical Services Manager/Audio Engineer for the National Hockey League's (NHL) San Jose Sharks. Here Mike managed a staff of 40+ part and full-time graphic artists, video, audio, utility and lighting technicians, oversaw all audio, video, digital signage, telephone and lighting systems, and was responsible for all purchasing, scheduling, and training for the department. Over his 25 years with San Jose's SAP Arena, Mike covered 1,000+ NHL regular season games, 100+ playoff games, two All Star Games, and one dream-of-a-lifetime trip to the Stanley Cup Finals.
In early 2021, Mike and his wife Dawn moved to the San Diego area where he is excited about bringing great audio engineering services to his new home market.
A note from Mike…
What you get with me is an experienced, easy-going professional who has "been there" ...many times. I'm not an equipment provider, although I do offer some basics in my toolbox if needed. My clients hire me to do one thing - to make their events sound great, and great shows don't just happen! I take great pride in doing the advance work before an event, followed by focused attention to detail during the show to ensure exceptional sound for all levels of events.
Please take a look at my photo gallery to see the variety and scope of events I do. And for all of you tech-minded folks, see the "Tech Stuff" tab.
To reach me, email info@mobsound.net for a quick response about how MOBSOUND can make your event sound top notch, every time.